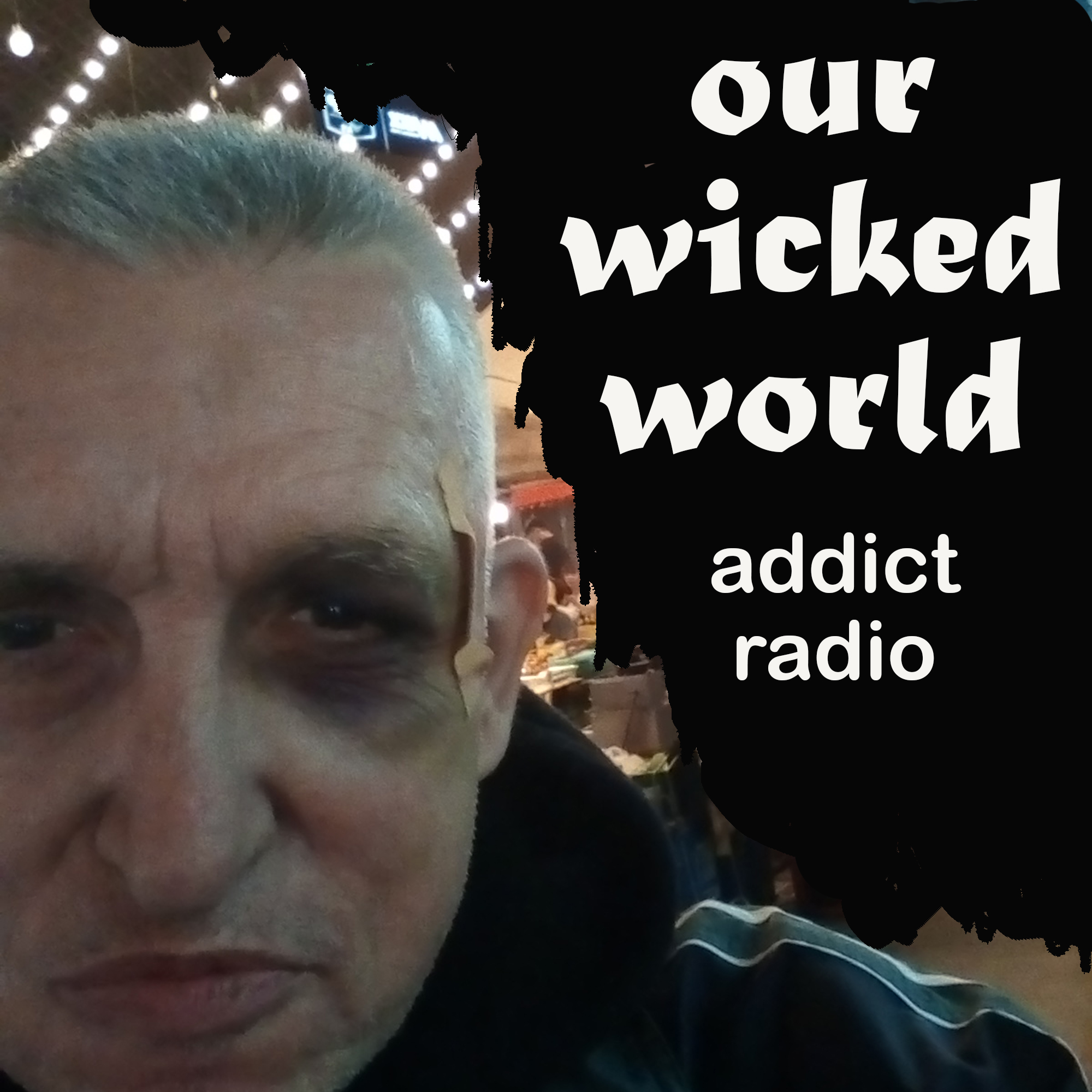 Episode 11
...with your host Telegram Sam
In this second episode of the new year, we get into Russell Brand's claim that there is no such thing as "gateway drugs" and addiction is all down to "childhood trauma." I think he got this idea from a writer called Gabor Mate... Is it a dangerously stupid notion?

#russellbrand, #gabormate
Also... one of the regular contributors to the Our Wicked World Mailbag, a woman called Heather... She's cool, she's funny but she's gotten on this obsessive kick of sending me fcking Post Malone videos. That dumpy, cornrowed geek. See, kids? That's what kind of damage drugs can do to your mind. You end up addled enough to get stuck on some moronic Post Malone loop... No, Heather's not brain damaged. She's just confused and needs help...
#postmalone
A couple folks wrote in to ask how to deal with a regular problem for IV drug users, "cotton fever." I explain and offer at least a partial remedy...
And finally, I reply to a letter from Jorge in El Monte... He asks if his instincts are correct -- that recovery meetings attract fake addicts and sometimes for mercenary reasons...
If you want to send us a question or comment or whatever else: ourwickedworldradio@gmail.com
That's all in this episode... So spread the word... subscribe... share... all that social media gack... and buy a t-shirt or whatever else we have in the store at
-------------------------------------------
All music is licensed and used legally via https://ccmixter.org
Music credits:
IntroTrack:
I Dunno by Grapes, Featuring: JLang, Morusque (c) copyright 2008 Licensed under a Creative Commons Attribution (3.0) license. http://dig.ccmixter.org/files/grapes/16626

-----------------------------
UnderTrack:
Depart (cdk mix) by Analog By Nature, Featuring Tekno Eddy (c) copyright 2015 Licensed under a Creative Commons Attribution license. http://dig.ccmixter.org/files/cdk/50347

-----------------------------
SONGS:
Kick Ass(Brass) by Error404, Featuring: 4nsic on vocals, with SPEAK E.Z. & SOL (c) copyright 2010 Licensed under a Creative Commons Attribution (3.0) license. http://dig.ccmixter.org/files/presse/24906

-----------------------------
Leaving Babylon, mixed by Zep Hurme, Featuring: i_Rebel on vocals (c) copyright 2019 Licensed under a Creative Commons Attribution (3.0) license. http://dig.ccmixter.org/files/zep_hurme/60052

-----------------------------
Dirtbag, mixed by Robbero, Featuring: Brad Turcotte on vocals (c) copyright 2019 Licensed under a Creative Commons Attribution license. http://dig.ccmixter.org/files/Robbero/59244