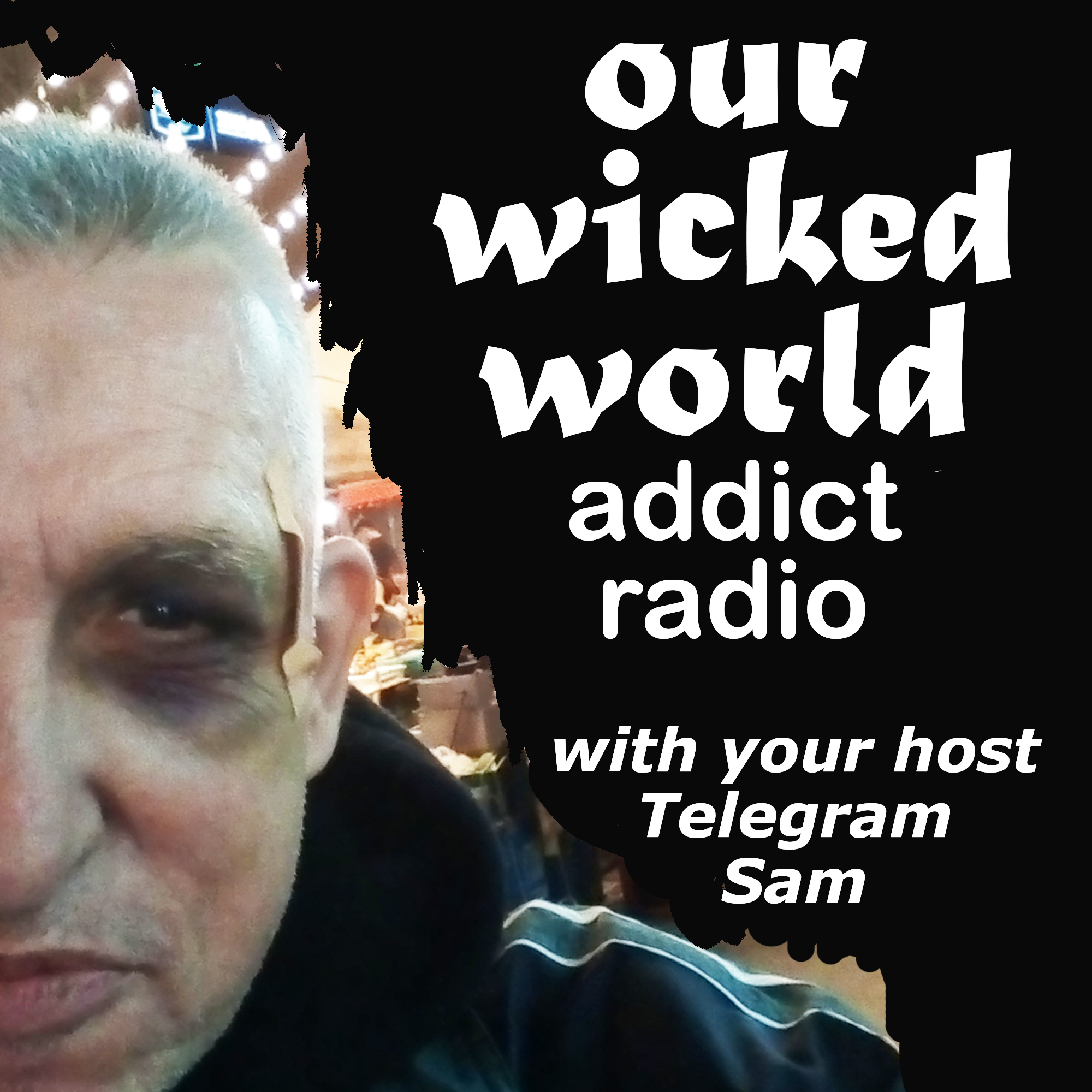 ...with your host Telegram Sam
This episode... reminded that time clean means kinda zero when you get hit with all the rose-colored memories of the good times and ignore the shit times and you get bored and wonder what the hell you're doing in the square life and how you'd rather be on a hard run...
Didn't happen but came close...
And a couple letters from the Our Wicked World Mailbag... A listener asks if she should leave her alcoholic, violent asshole husband. The short answer is No Fuckn Kidding but I go into the why and how because sometimes people in a cornered situation need to hear it all again...
Along with a story from the The Gang That Couldn't Think Straight... the good ol' days of drugs, douchebags and dead end fuck ups...
I've been busy as hell so taking some time between podcasts and still trying to get it together to work on the Patreon page, which is at https://patreon.com/ourwickedworld
         I'll manage to get that together this week sometime, let's hope...
Music is legit, legal and used with permission from    https://ccmixter.org
Intro Track:
I dunno by grapes (c) copyright 2008 Licensed under a Creative Commons Attribution (3.0) license. http://dig.ccmixter.org/files/grapes/16626 Ft: J Lang, Morusque
-------------------------
Undertrack:
BEHIND US by BOCrew (c) copyright 2012 Licensed under a Creative Commons Attribution (3.0) license. http://dig.ccmixter.org/files/BOCrew/38234 Ft: Snowflake / Geoff Willams / thedeepr
-------------------------
Songs:
Control, vocals by Lancefield, mix by @nop (c) copyright 2011 Licensed under a Creative Commons Attribution (3.0) license. http://dig.ccmixter.org/files/Lancefield/33936
-------------------------
RemixSickAsADog by dupoxy, vocals by Brad Turcotte (c) copyright 2006 Licensed under a Creative Commons Attribution license. http://dig.ccmixter.org/files/dupoxyF/7257
-------------------------
Libre Como El Ave (I started to fly) mixed by Wired Ant, Featuring Tina and Hektor Thillet on vocals (c) copyright 2011 Licensed under a Creative Commons Attribution Noncommercial (3.0) license. http://dig.ccmixter.org/files/Wired_Ant/34376 Ft: Tina,Hektor Thillet