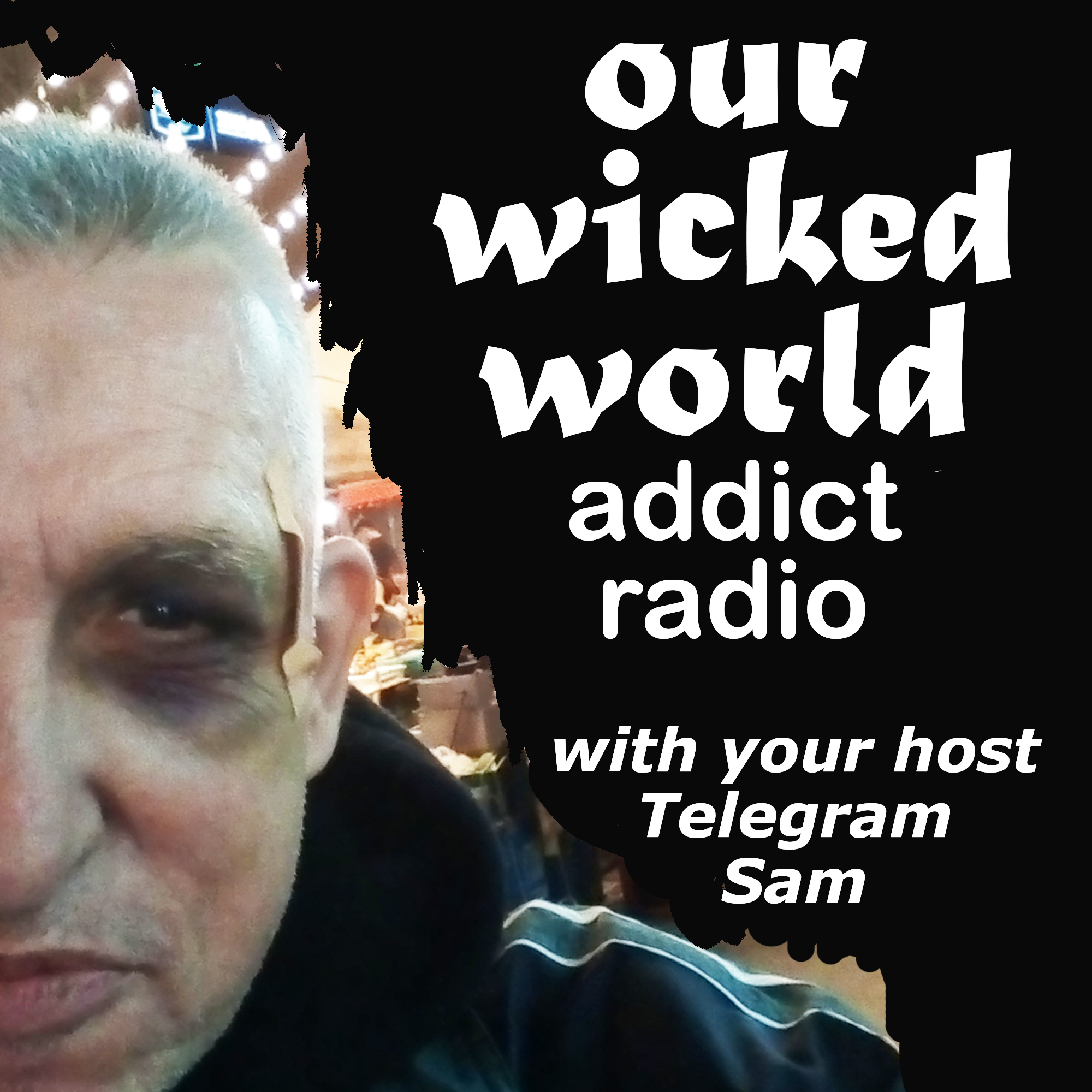 ...with your host Telegram Sam
  Our Wicked World Addict Radio now on          
https://patreon.com/ourwickedworld
  ----------------------     
Become a cult member for 3 bucks to 20 bucks per month.
Win valuable and virtually illegal prizes.        

  --------------------       
   Okay okay. It took me too long to get this Episode Lucky #13 up and running. It was a big pain in the ass to get the Patreon thing done and working. Then I  had to deal with some shithead crying to iTunes I was putting out hate speech cuz I dissed his girlfriend Post Partum Malone. Good thing the computers at iTunes told the lying sack of shit to go blow.
  -----------------------      
  I haven't even had time to get the word out yet about the Patreon thing, which is ironic since the whole point of getting on Patreon is to raise the $ to hire someone who can do the promo and social media bullshit I'm so bad at. So that's on the list...
https://soundcloud.com/cotton-weary/
https://soundcloud.com/cotton-weary/asshole
   In this episode, new music from COTTON WEARY. A really great, funny as fck track called ASSHOLE. I met him on Soundcloud and he's a born satirist. He's like a 21st century Frank Zappa. Keep in mind, since my shows are only 30 minutes long or so, the songs I play are promo tracks about 1:30 in length, meant to whet your appetite to click on the link and buy it. Don't be a cheap motherfucker. Musicians make this good shit and you like to listen so a few bucks won't kill you. And there's a longer version of ASSHOLE at the end of the show...
    ------------------------        
  DOG OWNING FUCKHEADS
   I also get into in a bit of a rage about stupid fucking dog owners who don't deserve to have any animals and should be chained up in some shit-filled yard and forgotten about, just like they do to some poor dog. Bastards.
   ------------------------         
  THE LEGEND OF GREENPOINT'S CHASSIDIC HEAVY, HANDSHAKE MO
  And a letter from Jassy in Ireland asks if I've ever known any drug dealers who were "good people". I used to know a Chassid guy that was the Myer Lansky of Greenpoint. Fair but tough when required, never showboated, and knew happy customers and low profiles are the keys to drug dealer heaven. So I recount my time with the man we called Handshake Mo.
    ---------------------           
  LEADING MEDICAL CANNABIS ADVOCATE ANTHONY SMILIS RETURNS
   Things wrap up with an excerpt from a long interview with leading medical cannabis advocate Anthony Smilis as he recounts how CBDs have helped people getting off methadone and suboxone, easing the transition. The full interview is on the Patreon site at         
https://patreon.com/ourwickedworld
  And along with Cotton Weary's tune, Asshole... we've got the fever inducing Farina... courtesy of music collective   https://ccmixter.org
   or the webpage:   https://ourwickedworld.com
    to buy t-shirts and other gear...
MusiCA:
IntroTrack
I Dunno (Grapes of Wrath Mix) by JLang & spinningmerkaba (c) copyright 2017 Licensed under a Creative Commons Attribution (3.0) license. http://dig.ccmixter.org/files/jlbrock44/56346 Ft: 4nsic, Grapes
--------------------
Di Me with vocals by Farina. Mixed by shagrugge (c) copyright 2012 Licensed under a Creative Commons Attribution (3.0) license. http://dig.ccmixter.org/files/shagrugge/35259
--------------------
UnderTrack
BEHIND US by BOCrew (c) copyright 2012 Licensed under a Creative Commons Attribution (3.0) license. http://dig.ccmixter.org/files/BOCrew/38234 Ft: Snowflake / Geoff Willams / thedeepr
--------------------
UnderTrack for Disclaimer
Depart (cdk mix) by Analog By Nature (c) copyright 2015 Licensed under a Creative Commons Attribution license. http://dig.ccmixter.org/files/cdk/50347 Ft: Tekno Eddy